Plain Labels 60MM X 110MM
PRINTER TECHNOLOGY - Label Printers (Zebra, Dymo, Bixolon, Intermec, Rollo, Sato, Datamax)

WIDTH –

60MM

LENGTH –

110MM
Price - KSHS 2.60/- Per Sticker
MATERIAL COLOR – White
ADHESIVE - General Purpose Adhesive
LABELS PER ROLL- 1,000
ROLLS PER BOX – 12 Rolls (1 Roll = 1,000 Pcs)
CORE DIAMETER - 1" Core
BOX WEIGHT – 3 Kgs
Select 1 Roll

Select Standard Packing (MOQ)

Select Sticker / Label Paper Material

Quantity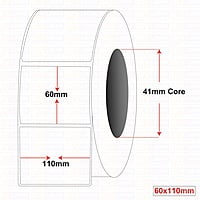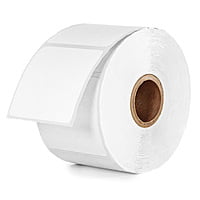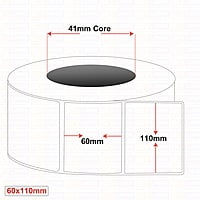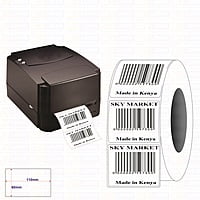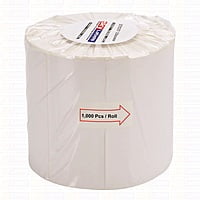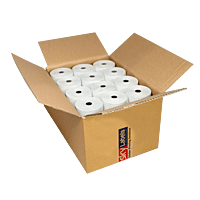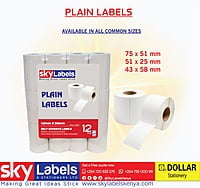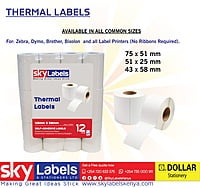 This White Plain label comes on a 1" core. There are 12 rolls per box and 1,000 labels per roll. T
hey will work in a desktop label printer like Zebra, Dymo, Sato, Bixolon, Rollo, Datamax, Intermec and others.
Thermal Plain White labels (No Ribbons Required), they do not require a ribbon to print. The ink is already embedded within the label material, which appears when heat from the print head causes a chemical reaction.

Semi Gloss Plain White labels (Ribbons Required), they do require a ribbon to print. As the label and ribbon pass through the print head, the heat from the print head transfers the ink from the ribbon directly onto the label. Without a ribbon, nothing will imprint onto the label.

White is our standard label stock material. It is a great selection for almost all labeling projects and has an excellent print quality. Additionally, the adhesive for this label is a permanent general purpose adhesive. This adhesive is perfect for application to corrugated cardboard, poly bags, plastic totes, plywood, shrink-wrap, and more.

At SKY Labels, we pride ourselves in making the best possible label for the lowest prices. We do this through a vertically integrated manufacturing process that is unrivaled in the label industry. We proudly make our labels at our 25,000 sq ft facility in Nairobi, Kenya. If you have any questions or need any help, don't hesitate to contact our customer support team.